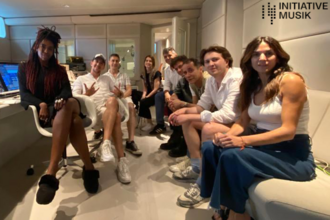 Freibank x Café Concerto Writing Camp Milan
We met in June, in summery Milan, with our partner Café Concerto at Quiet, please! Studios and wrote songs for 3 days. Our writers K.ZIA, Niklas Keiser and Anton Krogmann teamed up with our Italian friends Massimiliano Pelan, Vincenza Casati and Giuseppe D'Albenzio. We are already looking forward to next camp in Berlin in late summer.
Sponsored by Initiative Musik.