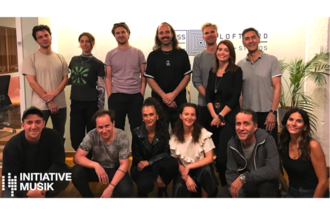 Freibank x Café Concerto writing camp in Berlin
We met in June, in summery Milan, with our partner Café Concerto at Quiet, please! Studios and wrote songs for 3 days. Our writers K.ZIA, Niklas Keiser (Razz) and Anton Krogmann teamed up with our Italian friends Massimiliano Pelan, Pier Vincenza Casati and Giuseppe D'Albenzio. In September, the second round was held in Berlin at Loftyard Studios, where Carina Madsius and BjarkeSørensen were also present besides our guest artists Patricie Kaňok Fuxová and Michal Jiráň of Vesna and Antonella Sgobio.
Supported by Initiative Musik.