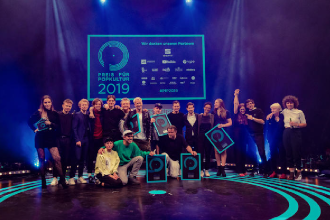 Giant Rooks are most anticipated newcomer!
Congratulation to Giant Rooks who won the price for the most anticipated newcomer "Hoffnungsvollster Newcomer" in 2019 at the Preis für Popkultur on October the 2nd. They ran against artists such als Ilgen-Nur, Alli Neumann, Mia Morgan and OG Keemo.
Giant Rooks are heading on their next tour through Europe in spring 2020. We are excited for them and are looking forward to their journey in 2020.
Information on Preis für Popkultur: It is a german music price that was first presented 2016. It takes place in the Tempodrom in Berlin and is given only to music produced in the german speaking countries. The jury consists out of more then 800 people working in the music industry and who form the association Verein zur Förderung der Popkultur e.V. (Source: Preis für Popkultur)