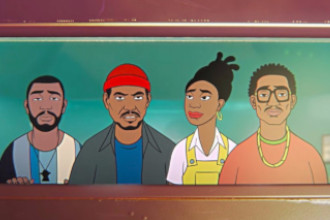 'New Breed' by James BKS feat. Q-Tip, Idris Elba & Little Simz
The new single 'New Breed' by James BKS was released on the 15th of November with a variety of featured artists such as Little Simz, Idris Elba and Q-Tip.
As James says, the formation "proudly represent the New Breed movement, a different way to approach music with no borders, no judgment, no labels. We have learned from our past mistakes and victories and our eyes are on Africa, while in the meantime we embrace our own personal paths, respectively in the UK for Little Simz and Idris Elba, in the US for Q-Tip, and in France for me."
The single is a accompanied by an animated Video directed by Stevie Gee and Essy May we can't get enough of.