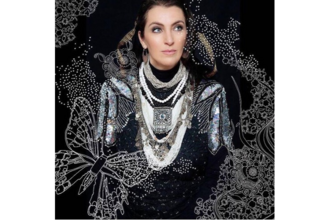 New Puder-Album out soon!
'Tomorrowland with Friends' will release March 27th via Pussy Empire.
Back in 2015, Hamburg-based musician Catharina Boutari a.k.a. Puder found her-self in a dilemma. Her plan was to record a new album. A good idea, on the face of it. Yet it also seemed a terrible prospect. She couldn't face going through the same process, the one she'd gone through so often when creating a new album. After 20 years in bands and as a solo performer, it was time for change. Time to get out of her comfort zone and dive headlong into a new kind of experiment: go into a stu-dio with a musical guest to create an album from scratch in ten days, from the first idea to the final recordings in front of a live studio audience. The name for this high-risk concept: the Puder Session Tapes. No safety net. Celebrating the format's international debut, the fourth and fifth Session Tapes featured Riad Abdel-Nabi in Amsterdam as well as Ben Schadow, Ulita Knaus and Kathrin Ost in Hamburg. The result is a stunning new work entitled, 'Tomorrowland with Friends'.
Watch the live recording of the beautiful 'Precious' here.