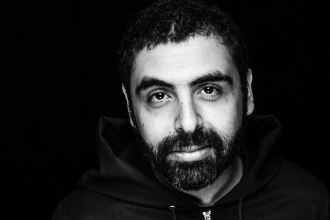 new signing: Voiski
We are thrilled to announce, that we've signed French Techno DJ & producer Luc Kheradmand aka Voiski!
In a time when the techno world often can give the impression of "the harder, the better", Voiski has a different approach. He is not afraid to admit he wants his music and DJ-sets to contain groove. Coming from an art school background (something that continuously keeps informing his work as a musician), he is one of the most analytical constructive artists on the scene, well aware of his own process, continuously examining it as he goes further.
Famous for his uninterrupted loops, whether they are part of more intense techno tracks, straight up electro-pieces, or his recent productions that carry a more gentle approach. The element of repetition is ongoing through his catalogue, creating a direct link to the minimalistic classical composers of the 60's.
Prestigious labels like Construct Re-Form, L.I.E.S., Delsin, Dekmantel and Field Records are just a handful of the ones showcasing his work.