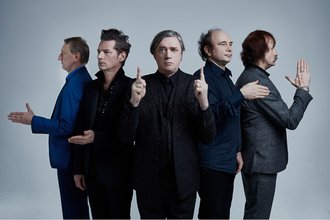 OUT: New video to 'Ten Grand Goldie' by Einstürzende Neubauten
Einstürzende Neubauten released their new single 'Ten Grand Goldie' on April the 3rd and announced their long-awaited album in twelve years. 'Alles in Allem' will be out on May the 15th this year and celebrates the 40th anniversary of the band.
The video to their latest single 'Ten Grand Goldie' is out today at 3 p.m. CET. Have a look and a listen here.
For the first single 'Ten Grand Goldie', Blixa Bargeld put out a call live on camera to worldwide supporters, using telecommunications to talk with people in Norway, Italy, and the USA. "Which word in your language do you especially like? What was the last snippet of a sentence you overheard coming out of someone else's mouth, whether or not the meaning was clear, or if the words were addressed to you?" The result is a song that pre-formulated the album epilogically, in which Bargeld's text fragments and the callers' answers got woven into a narrative. And so, "Ten Grand Goldie" enchantingly combines reflections on a city in transition with words borrowed from foreigners. Bargeld calls this process "harvesting." He picks various things together and reprocesses them.
Go check out Einstürzende Neubauten and their entire back-catalogue on Spotify.