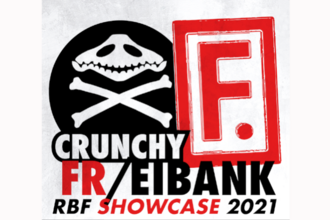 Reeperbahn Festival 2021: Crunchy Frog x Freibank's showcase on the 24th of September
We have been working with the Danish label Crunchy Frog for a long time. At this years Reeperbahn Festival we are joining forces to put on one helluva show!
Come join us for a chat, drinks, snacks and, most importantly, great music at Grüner Jäger on Friday the 24th of September.
16:00 Reception (invite only)
17:00 The New Madness
18:45 Lasse Mathiessen
20:30 Spoon and the Forkestra
22:15 The Entrepreneurs
The New Madness
With Danish-born multi-instrumentalist Bjarke Sørensen in front, The New Madness has an international cast from Germany, Canada and France - Simeon Loth, Alex Cummings and Elie Granger. With roots firmly planted in the ground between garage revisionist blues rock, the band's hard-hitting riffs and rallying melodies are a rebel call to sticking it to The Man, freaking out and embracing non-conformity – a new madness!
Lasse Matthiessen
Melancholic by trade and a songwriter of the non-conformist breed, Lasse Matthiessen leads us into the dark corners of the soul, looking for inspiration and ways forward. Lasse Matthiessen's sound is the meeting point between the timelessness and honesty of American-influenced folk and indie and the patience and beauty of contemporary Scandinavian music.
Spoon and the Forkestra
German indie-folk duo Spoon and the Forkestra are saturated by a wondrous nostalgia. Timo Zell's delicate basslines gently dance around the fragile and powerful voice of Emily-Mae Lewis, who seems to be whispering her pictorial stories directly into their listeners' ears. With Spoon & the Forkestra, folky elements meet psychedelia, and the freedom of punk meets the sensuality of jazz and soul in a musical embrace that feels both beautiful and on edge.
The Entrepreneurs
After touring extensively with their debut EP, Anders Hvass (bass), Mathias Bertelsen (vocals, guitar) and Jonas Wetterslev (drums) earned their persistent reputation as one of the fiercest live bands in Denmark, bringing their aesthetically rich and experimental take on some of rock's most significant sub-genres like punk, grunge and post-rock to stages around Europe. Their latest album, Wrestler (2021), is cohesive and very human record – one that adds to the conversation of being a modern human being in constant contact with the world around us and in a continual process of looking inward.